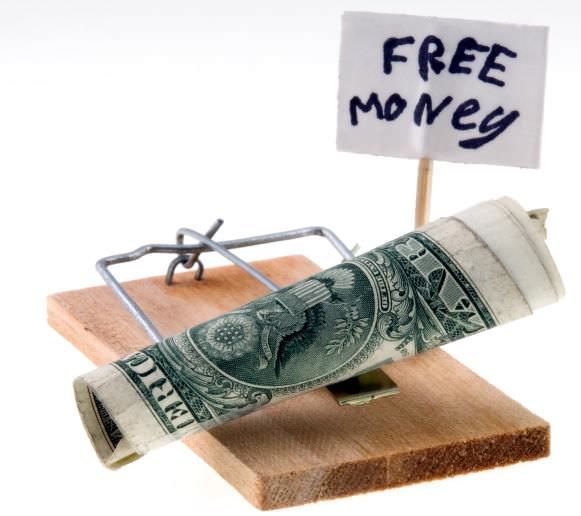 Image extracted from: Reason.com
One of my recent blog posts (Financial Responsibility & The Payday Lending Debt Trap) discussed challenges faced by recent grads, the excitement of a first job, a paycheck and the importance of financial responsibility.   Oftentimes when just starting out in what my father refers to as the "real world", a checking account may serve merely as a pass through entity for your funds – in comes the money and then out it goes to pay your bills – no reason to worry about hidden fees.  (Mind you, it is wise to set aside 10% for savings and you should make it a habit now– but, let's face it, that isn't always possible). So, the money is in, the money is out – the question is, will more be "out than in" with your free checking account hidden fees?
Let me explain. You may or may not be aware of a number of regulations within the financial industry that have been passed over the last year or so which have impacted financial institutions' "lucrative" stream of fee income as it pertains to overdraft fees etc.  So, the days of FREE checking now seem to be morphing into the days of free checking with fine print and hidden fees.  The new regs have forced institutions to find alternative ways to make up for the lost income and Free Checking has become the target.
A truly free checking account is one with no minimum balance and no monthly fees (or any other hidden fees), period.  The new "free" checking is – your account is free "if you have X on deposit" or "if you do all your banking online and never visit an office – if so we'll charge you" so on and so forth – a lot of fine print and a lot of rules and if you can't comply, it could cost you. It's true, free checking as we know it may become extinct.  Check out this article on bankrate.com.
Recently, WPXI's consumer reporter, Robin Taylor, came to Riverset to gain our insight on the subject and Kelly Friedl, our Director of Operations, took the interview.  Check it out.
The bottom line is – read the fine print and be smart with your money so you are not hit with hidden fees.  Not only do you need to know what you can afford, you need to know what financial institution best fits you.  Why should you have to pay more for your own money?
Riverset Credit Union is open to those in Allegheny, Beaver and Butler Counties.  View info on all of our products and services, including our Free checking at riverset.com.